#WeRideWhyRadio (Podcast)
Warning
: Illegal string offset 'gplus' in
/var/www/wp-content/plugins/dpArticleShare/functions.php
on line
446
Warning
: Illegal string offset 'twitter' in
/var/www/wp-content/plugins/dpArticleShare/functions.php
on line
447
Warning
: Illegal string offset 'linkedin' in
/var/www/wp-content/plugins/dpArticleShare/functions.php
on line
448
Warning
: Illegal string offset 'facebook' in
/var/www/wp-content/plugins/dpArticleShare/functions.php
on line
449
Warning
: Illegal string offset 'pinterest' in
/var/www/wp-content/plugins/dpArticleShare/functions.php
on line
450
Warning
: Illegal string offset 'delicious' in
/var/www/wp-content/plugins/dpArticleShare/functions.php
on line
451
Warning
: Illegal string offset 'stumbleupon' in
/var/www/wp-content/plugins/dpArticleShare/functions.php
on line
452
Warning
: Illegal string offset 'digg' in
/var/www/wp-content/plugins/dpArticleShare/functions.php
on line
453
Warning
: Illegal string offset 'tumblr' in
/var/www/wp-content/plugins/dpArticleShare/functions.php
on line
454
Warning
: Illegal string offset 'reddit' in
/var/www/wp-content/plugins/dpArticleShare/functions.php
on line
455
Warning
: Illegal string offset 'buffer' in
/var/www/wp-content/plugins/dpArticleShare/functions.php
on line
456
Warning
: Illegal string offset 'vk' in
/var/www/wp-content/plugins/dpArticleShare/functions.php
on line
457
Warning
: Illegal string offset 'blogger' in
/var/www/wp-content/plugins/dpArticleShare/functions.php
on line
458
Warning
: Illegal string offset 'total' in
/var/www/wp-content/plugins/dpArticleShare/functions.php
on line
459
Warning
: Illegal string offset 'gplus' in
/var/www/wp-content/plugins/dpArticleShare/functions.php
on line
446
Warning
: Illegal string offset 'twitter' in
/var/www/wp-content/plugins/dpArticleShare/functions.php
on line
447
Warning
: Illegal string offset 'linkedin' in
/var/www/wp-content/plugins/dpArticleShare/functions.php
on line
448
Warning
: Illegal string offset 'facebook' in
/var/www/wp-content/plugins/dpArticleShare/functions.php
on line
449
Warning
: Illegal string offset 'pinterest' in
/var/www/wp-content/plugins/dpArticleShare/functions.php
on line
450
Warning
: Illegal string offset 'delicious' in
/var/www/wp-content/plugins/dpArticleShare/functions.php
on line
451
Warning
: Illegal string offset 'stumbleupon' in
/var/www/wp-content/plugins/dpArticleShare/functions.php
on line
452
Warning
: Illegal string offset 'digg' in
/var/www/wp-content/plugins/dpArticleShare/functions.php
on line
453
Warning
: Illegal string offset 'tumblr' in
/var/www/wp-content/plugins/dpArticleShare/functions.php
on line
454
Warning
: Illegal string offset 'reddit' in
/var/www/wp-content/plugins/dpArticleShare/functions.php
on line
455
Warning
: Illegal string offset 'buffer' in
/var/www/wp-content/plugins/dpArticleShare/functions.php
on line
456
Warning
: Illegal string offset 'vk' in
/var/www/wp-content/plugins/dpArticleShare/functions.php
on line
457
Warning
: Illegal string offset 'blogger' in
/var/www/wp-content/plugins/dpArticleShare/functions.php
on line
458
Warning
: Illegal string offset 'total' in
/var/www/wp-content/plugins/dpArticleShare/functions.php
on line
459
Warning
: Illegal string offset 'gplus' in
/var/www/wp-content/plugins/dpArticleShare/functions.php
on line
446
Warning
: Illegal string offset 'twitter' in
/var/www/wp-content/plugins/dpArticleShare/functions.php
on line
447
Warning
: Illegal string offset 'linkedin' in
/var/www/wp-content/plugins/dpArticleShare/functions.php
on line
448
Warning
: Illegal string offset 'facebook' in
/var/www/wp-content/plugins/dpArticleShare/functions.php
on line
449
Warning
: Illegal string offset 'pinterest' in
/var/www/wp-content/plugins/dpArticleShare/functions.php
on line
450
Warning
: Illegal string offset 'delicious' in
/var/www/wp-content/plugins/dpArticleShare/functions.php
on line
451
Warning
: Illegal string offset 'stumbleupon' in
/var/www/wp-content/plugins/dpArticleShare/functions.php
on line
452
Warning
: Illegal string offset 'digg' in
/var/www/wp-content/plugins/dpArticleShare/functions.php
on line
453
Warning
: Illegal string offset 'tumblr' in
/var/www/wp-content/plugins/dpArticleShare/functions.php
on line
454
Warning
: Illegal string offset 'reddit' in
/var/www/wp-content/plugins/dpArticleShare/functions.php
on line
455
Warning
: Illegal string offset 'buffer' in
/var/www/wp-content/plugins/dpArticleShare/functions.php
on line
456
Warning
: Illegal string offset 'vk' in
/var/www/wp-content/plugins/dpArticleShare/functions.php
on line
457
Warning
: Illegal string offset 'blogger' in
/var/www/wp-content/plugins/dpArticleShare/functions.php
on line
458
Warning
: Illegal string offset 'total' in
/var/www/wp-content/plugins/dpArticleShare/functions.php
on line
459
Warning
: Illegal string offset 'twitter' in
/var/www/wp-content/plugins/dpArticleShare/classes/base.class.php
on line
134
Warning
: Illegal string offset 'gplus' in
/var/www/wp-content/plugins/dpArticleShare/functions.php
on line
446
Warning
: Illegal string offset 'twitter' in
/var/www/wp-content/plugins/dpArticleShare/functions.php
on line
447
Warning
: Illegal string offset 'linkedin' in
/var/www/wp-content/plugins/dpArticleShare/functions.php
on line
448
Warning
: Illegal string offset 'facebook' in
/var/www/wp-content/plugins/dpArticleShare/functions.php
on line
449
Warning
: Illegal string offset 'pinterest' in
/var/www/wp-content/plugins/dpArticleShare/functions.php
on line
450
Warning
: Illegal string offset 'delicious' in
/var/www/wp-content/plugins/dpArticleShare/functions.php
on line
451
Warning
: Illegal string offset 'stumbleupon' in
/var/www/wp-content/plugins/dpArticleShare/functions.php
on line
452
Warning
: Illegal string offset 'digg' in
/var/www/wp-content/plugins/dpArticleShare/functions.php
on line
453
Warning
: Illegal string offset 'tumblr' in
/var/www/wp-content/plugins/dpArticleShare/functions.php
on line
454
Warning
: Illegal string offset 'reddit' in
/var/www/wp-content/plugins/dpArticleShare/functions.php
on line
455
Warning
: Illegal string offset 'buffer' in
/var/www/wp-content/plugins/dpArticleShare/functions.php
on line
456
Warning
: Illegal string offset 'vk' in
/var/www/wp-content/plugins/dpArticleShare/functions.php
on line
457
Warning
: Illegal string offset 'blogger' in
/var/www/wp-content/plugins/dpArticleShare/functions.php
on line
458
Warning
: Illegal string offset 'total' in
/var/www/wp-content/plugins/dpArticleShare/functions.php
on line
459
Warning
: Illegal string offset 'facebook' in
/var/www/wp-content/plugins/dpArticleShare/classes/base.class.php
on line
128

#WeRideWhyRadio is a bi-weekly audio magazine hosted by Greg Roth & David "The Rocket" Richter. The first episode launched on Friday, October 23, 2020.
#WeRideWhy? There are many answers to that question many ride for a myriad of reasons.
Of course, cycling is a lifestyle as well. The aesthetic is as important as the functionality when it comes to bikes, kits, styles whatever. Music and art are part of our culture, because cycling is an art-form.
Bikes are pieces of art. Like every human being, every bike no matter how old or what style is beautiful and magnificent.
Cycling has altered our lives in a positive way and continues to.We bring what we learn into other areas and share the experience with others.
This inspires people to take action whatever that action is, to new possibilities and ways of being…living our live to the fullest and having communities' function.
Greg and David will chat with interesting guests from the music, art, cycling and athletic world – to delve into the intricate and interesting perspectives on training, living, overcoming obstacles, fulfilling on commitments and having success (in whatever way you define it) in life.
We look forward to riding with you on this journey and thank you for listening!
ABOUT THE HOSTS…
Greg Roth (Host) is best known as the founder and Creative Director of the local music website, Seattle Music Insider. He had a podcast that ran from 2010 – 2015.
Greg's curiosity about the complexity of the human condition as it relates to art and music. In addition, Greg's 20+ year career in Talent Acquisition, interviewing and hiring thousands of individuals from diverse backgrounds for companies, like Microsoft, Amazon, Deloitte and Zulily give him unique insight into human behavior.
Greg's passion for music and storytelling, is what drove Greg to photograph and interview award winning local and national music artists.
Greg rides, trains and races with his club, Fount Cycling Guild and participates in several cycling events each year, training an average of 200+ miles per week.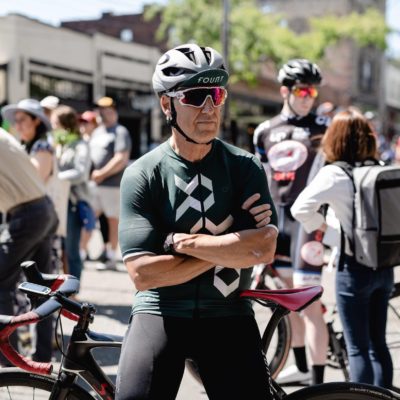 David "The Rocket" Richter (Co-Host) began his cycling career over 40 years ago as a BMX racer. 
He briefly shelved cycling to pursue a baseball career as a scholarship athlete at the University of Washington. He returned to cycling and excelled as a professional mountain biker, UCI professional road cyclist, cyclocross racer…and even a bicycle messenger. 
This made him one of the most well-known and top performing cyclists in the Pacific Northwest.
Rocket's love for cycling has driven him in business. Dave brings deep knowledge and an entrepreneurial spirit to everything he does.